TOTAL KNEE REPLACEMENT: WHAT TO EXPECT AFTER DISCHARGE HOME
WHAT TO EXPECT AFTER TOTAL KNEE REPLACEMENT:
DAY 0-1:
REBOUND PAIN WHEN THE SPINAL WEARS OFF.  VARIES FROM PERSON TO PERSON – AVOID IV NARCOTICS IF OFFERED in the recovery room (PACU) AS THEY MAY DELAY PHYSICAL THERAPY DUE TO NAUSEA/VOMITING/DIZZINESS.  INSTEAD TAKE AN ORAL PAIN MEDICINE.  IF you are not having pain, you don't have to take the narcotics given – stop them if you're having nausea/vomiting/dizziness.
YOU START THE MULTI-DRUG PAIN PROTOCOL AND START WALKING WITH A PHYSICAL THERAPIST AND A WALKER.  YOU WORK ON A STEP OR STAIRS IF NEEDED TO GO HOME SAFELY.
OCCASIONALLY A FOOT DROP OCCURS DUE TO THE NERVE BLOCK IN THE BACK OF THE KNEE LEAKING AROUND THE NERVE THAT MAKES THE ANKLE MOVE UPWARD.  THIS RESOLVES WHEN THE NUMBING MEDICINE WEARS OFF – USUALLY BY THE NEXT DAY.
DAY 1-5:
SWELLING AND BRUISING OF KNEE, THIGH, CALF, ANKLE AND FOOT.  THE AMOUNT OF SWELLING AND BRUISING VARIES FROM PERSON TO PERSON – EVERYONE RESPONDS DIFFERENTLY  – THIS IS NORMAL.
COMPRESSION STOCKINGS (ie TED hose) are used for 14 days to decrease swelling of the foot and ankle when patients are awake – they can be removed at nighttime.
PAIN IN THE BACK OF THE KNEE FIRST APPEARS 12-18 HOURS POSTOP WHEN THE POSTERIOR NERVE BLOCK WEARS OFF – A LOT OF PATIENTS REPORT CALF PAIN AT THIS TIME – THIS IS NOT A DVT (DEEP VENOUS THROMBOSIS), THIS IS THE POSTERIOR BLOCK WEARING OFF.
ONCE THE POSTERIOR CAPSULE BLOCK WEARS OFF, YOUR PAIN INCREASES SLIGHTLY AND THEN DECREASES OVER 12-24 HOURS.  YOU ARE NOW AT A STEADY STATE UNTIL THE ON-Q PAIN PUMP RUNS OUT (if pump used).
PHYSICAL THERAPY AT HOME FOCUSES ON WALKING, FLEXION (OR BENDING) OF THE KNEE AND EXTENSION (OR STRAIGHTENING) OF THE KNEE.  THE EXTENSION BLOCK – WHERE YOUR KNEE IS UNSUPPORTED, BY PROPPING YOUR ANKLE UP ON PILLOWS OR A TOWEL OR A COFFEE TABLE IS IMPORTANT IN THE FIRST 6 WEEKS OF THERAPY.  THIS IS DIFFICULT AND PAINFUL BECAUSE OF THE SWELLING.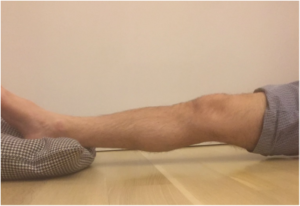 EXTENSION BLOCK
Another resource for PT Videos: Bob and Brad https://www.bobandbrad.com/total-knee-replacement-program
ICING CAN BE DONE 24/7 AS LONG AS THE SKIN IS PROTECTED FROM FREEZER BURN.  THIS SHOULD BE DONE WHENEVER SITTING OR LYING DOWN.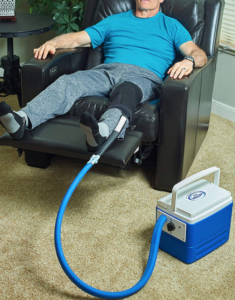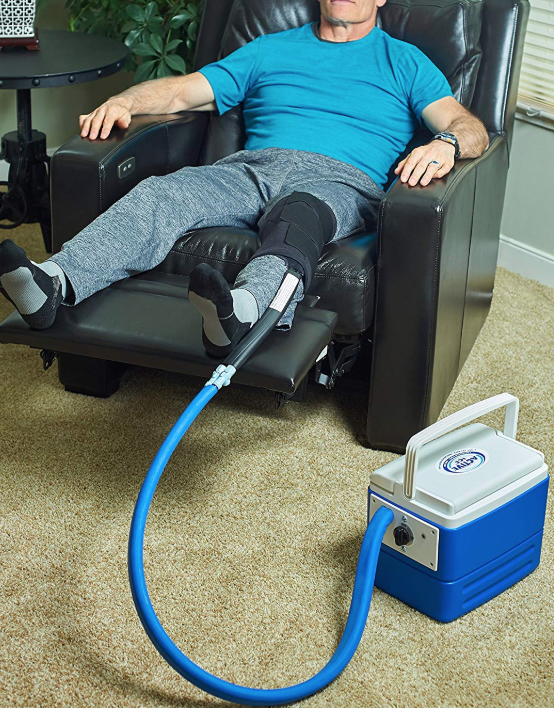 PHYSICAL THERAPY (PT) can either be:
1. SELF-DIRECTED using instructions (Home Exercise Program ie HEP)
2. Outpatient PT  (OPPT) or
3. HOME HEALTH PT in person at your home (HHPT)
ALL STUDIES SUGGEST YOUR KNEE FUNCTION/OUTCOME DOES NOT RELY ON FORMAL PT rather its entirely dependent on you doing the Exercises.  You should be getting up to walk with the walker in the house or outside the house 1x per hour.  You should be doing your HEP 3x daily.
DAYS 5-8: (IF ON-Q PUMP USED) BLOCKS WEAR OFF AND ARE DISCONTINUED.  There is an increase in pain when the 2 blocks wear off — this lasts less than 24 hours and then you reach another steady state.  At this point there are no more expected spikes in pain.  Pain and swelling are related to activity level.
Mepilex border dressings (fancy bandaid) is ok to remove at 7 days postop and leave open to air.  The Steri-Strips (white tape) across the incision will fall off on their own – if still on, they can be removed after 2 weeks postop.  OK to shower with the wound uncovered now, using Hibiclens soap over the incision in the showers (NO SUBMERSION OF THE WOUND UNTIL SCAB GONE – USUALLY 3-4 WEEKS POSTOP).
DAYS 2-14: Depending on fitness level, WALKER is discontinued, continue to use of cane if limp is still present.